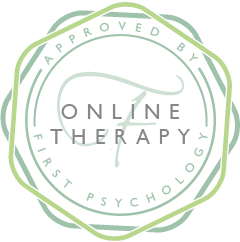 About Clare:
Works as Senior Counselling Psychologist  at First Psychology Online
APOLOGIES Dr Clare Stone is not accepting new clients at First Psychology

Dr Clare Stone is an experienced counselling psychologist who is registered with the Health and Care Professions Council (HCPC) and chartered by the British Psychological Society (BPS).
Clare works with adults with a wide range of issues including: depression and low mood; anxiety related issues such as phobias, general anxiety disorder, obsessive compulsive disorder (OCD),social anxiety, trauma/post-traumatic stress disorder(PTSD), panic, and health anxiety; anger issues; stress; abuse; low self-esteem, insomnia; relationship issues; addiction; bullying, low self-esteem, bereavement; life transitions; and self harm.
She has particular experience working with trauma (including those diagnosed with PTSD) and complex trauma. She has worked with male veterans many of whom have experienced multiple traumas. She has also worked with survivors of childhood trauma, sexual abuse/assault, physical assault, and road traffic accidents.
In addition, Clare offers life coaching for clients wishing to focus on achieving specific goals.

Clare offers clinical supervision for health professionals (individual and group).
Clare's way of working
Clare uses a number of counselling and therapy approaches in her work depending on each client's individual needs and preferences. These include: Cognitive Behaviour Therapy (CBT), Person-Centred Therapy, Emotion Focused Therapy, Acceptance and Commitment Therapy, and mindfulness approaches. Clare works with each client to build a strong, positive therapeutic relationship in which clients can explore their difficulties without fear of being judged.
Clare's background and training
Clare is a BPS Chartered Psychologist who is registered with the HCPC. She has a Doctorate in Counselling Psychology and an Honours Degree from Glasgow Caledonian University. In addition, she has a Postgraduate Teachers Qualification in Further Education. She has undertaken additional training in supervision and mindfulness.
Clare has experience working in a number of settings including working with a leading veteran's charity to develop, manage and deliver a PTSD intensive treatment programme. She has also offered therapy within an NHS centre which specialises in psychological treatment for people who have experienced trauma. Clare has experience working with people with addiction issues both within the NHS and for a charitable organisation. In addition she has provided therapy and conducted research interviews for a therapy research clinic. Clare has also worked as a psychology lecturer at a further education college.


Clare charges £95 per session for self-funding clients. She also works with clients referred via their employer/organisation – for further details, please visit First Psychology Assistance.

APOLOGIES Dr Clare Stone is not accepting new clients at First Psychology