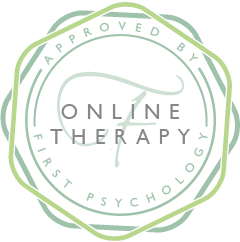 About Cameron:
Works as Counsellor/Therapist at First Psychology Online

Cameron Cunningham is a counsellor / therapist who works online with adults with a wide range of issues and problems including: anxiety; depression; anger/aggression; stress; eating disorders and body image issues; obsessive compulsive disorder (OCD); gender and identity issues; life transitions; assertiveness; abuse (from adult and childhood); bereavement/grief; relaxation; autism spectrum disorders; alcohol and substance related issues; thought process issues (such as rumination, worry, perfectionism, etc); and many more issues.
Cameron's way of working
Cameron takes a person-centred approach to her counselling work. She incorporates this with a number of other therapeutic approaches including elements of cognitive-behaviour therapy (CBT) and Emotion Focused Therapy in order to tailor her approach to meet the needs and preferences of each individual. Cameron believes that the therapeutic relationship is important for successful therapy and she will work hard with clients to build a strong therapeutic relationship.
Cameron's background and training
Cameron has worked in client support roles in a number of different settings including in a psychiatric hospital and for charity and third sector organisations.

Cameron has an MSc in Development Studies from the University of Glasgow; a Post-Graduate Diploma in Psychology from Glasgow Caledonian University, and a BA degree in Psychology from The University of New Hampshire, USA. In addition, Cameron is currently working towards a DPsych in Counselling Psychology at Glasgow Caledonian University.
Cameron's fee
Cameron charges £65 a session for self-funding clients. She also works with clients referred via their employer/organisation – for further details, please visit First Psychology Assistance.