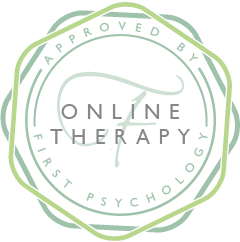 About Rianna:
Works as Senior Clinical and Counselling Psychologist at First Psychology Online
Languages spoken:



Rianna Thompson is an experienced senior clinical and counselling psychologist who works online with individual adults seeking therapy for a wide range of issues and problems including: anxiety; depression; assertiveness; abuse and neglect (in adulthood or childhood); stress (including exam stress); obsessive compulsive disorder (OCD); bereavement/grief; anger/aggression; panic; phobias; personality disorders; bipolar disorders; relationship issues (with an individual client only); self-harm; thought process issues (including worry and rumination, perfectionism, need for control, intrusive thoughts, etc); chronic illness; life transitions; trauma; post-traumatic stress disorder (PTSD); relaxation; workaholism; issues relating to substance misuse; and many more issues. She has particular experience in working with individuals with psychosis.

Rianna's way of working
Rianna works collaboratively with her clients, making use of a number of evidence-based therapies to meet the needs, goals, and preferences of each individual. These include Acceptance and Commitment Therapy, Cognitive-Behaviour Therapy (CBT), Solution Focused Therapy, Schema Therapy, and DBT Informed Therapy . She aims to provide a comfortable, safe and friendly space for people to explore what brought them to therapy. She will help clarify an individual's values and the things that are important to them and assist in empowering them to take an active role in building skills to solve problems; relate to difficult thoughts and feelings in a more helpful way; and engage with the things that matter most to them.

Rianna's background and training
Rianna has experience of working in a number of settings including: inpatient, outpatient and rehabilitation mental health settings in Australia. She has also worked in an international school in Japan, providing counselling support to Japanese and international students. Rianna has recently begun working within community mental health settings in Scotland.

She has an undergraduate Honours Degree and a postgraduate Master's Degree in Clinical Psychology (from the University of Adelaide, Australia). In addition, she has completed further training in Acceptance and Commitment Therapy and Dialectical Behaviour Therapy, and specialised training in Compassion-Focussed Therapy for working with voice-hearing.

Rianna is registered with the Health and Care Professions Council (HCPC).




Rianna's fee
Rianna charges £95 a session for self-funding clients. She also works with clients referred via their employer/organisation – for further details, please visit First Psychology Assistance.

PLEASE NOTE all of our practitioner fees will increase on 3 October 2022